Corner of Love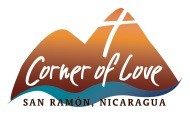 Leading medical-dental teams and people-to-people missions to San Ramon, Nicaragua.

Corner of Love's mission: "As servants of Christ and with the desire to lift up and empower Christians in the country of Nicaragua, Corner of Love Ministries seeks to comfort and care for God's children, elderly and most impoverished through on-site medical/dental clinics, service projects and other programs that benefit the needy and glorify God's name."
---
Corner of Love invites you to escape your comfort zone and come serve in the rural villages of the Maltagalpa region.
Next Trips:

Bondad Brigade Sept.6-13th, 2013 (Backpacking /Medical)

Coffee Fincas Brigade Nov.9-16th, 2013 (Medical Clinics serving coffee plantation workers)

Ever Strong Prep Team Jan.11- 18th, 2014 (Pharmacy Organizing/ Work at Quinta)


Ever Strong Week #4 Feb.16- 23rd, 2014 (Dental/Medical/Construction)
To sign up for one of these missions contact sarah@corneroflove.org
Corner of Love: http://www.corneroflove.org

---
READ ABOUT our past trip...
Corner of Love: Week #1 Mercy Road Brigade Feb 17-25, 2012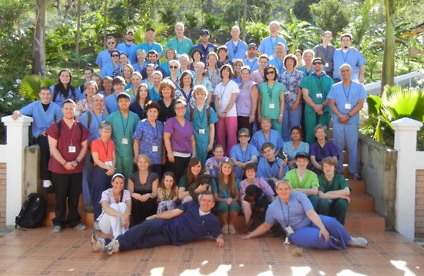 Our team, made up with some members of MVPC church, Carol, Sarah, Emily, Bria and I, headed out to Nicaragua to hook up with 75 other people from the US. All 80 people arrived at Managua airport each carrying 100 pounds of medical, dental or clothing supplies to be distributed to around 20 villages during our one week campaign. That is 2000 pounds of stuff! The next day we sorted through all the bags, made piles, and created the goody bags and the bins of medical supplies, dental supplies, and clothing to be given away to the hundreds of villagers throughout the week.
At each village we established our clinic in the main building, usually a church. At the back or in one of the rooms would be a pharmacy. Our tables and chairs were set up for the villagers to be interviewed for their medical needs. After the patient had received their medication from the pharmacist they would head to the clothing area where they would find a shirt or some pants, or even shoes for them and their family members.
Usually these village days would be long with the line-ups of people even longer. Our first day with the orange team lasted till 7 in the evening. I think we saw a 150 people that day. We would run out of the most important medication like Menbendazole which keeps the parasites in the water out of the body. We would also run out of clothes. We really needed to bring 3x's as many meds & clothing.
My daughter, Bria, who is 10 and was the youngest person on the Brigade had fun interacting with the Nicaraguan kids through chalk art, face painting and of course there was always a chicken or 2 to chase.
We stayed at Nelson & Tanya Amador's home in San Ramon. They built a large home big enough to house 150 people. We would have a wonderful breakfast and dinner at the "Quinta" and for lunch in the village one of the Amador's cooks would come with us and prepare it in a local home.
The brigades are a busy time of serving God. I think we probably helped 1000 Nicaraguans. The need is so great in Nicaragua and our time is so small. But, as we served the Nicaraguans we grew closer to one another and soon this group of people, missionaries, from different parts of the world became our family. You love them and miss them and look forward to next year's Week #1 Brigade where God will be performing miracles right before our eyes again.
Karen Eby
[
back
]