New to MVPC?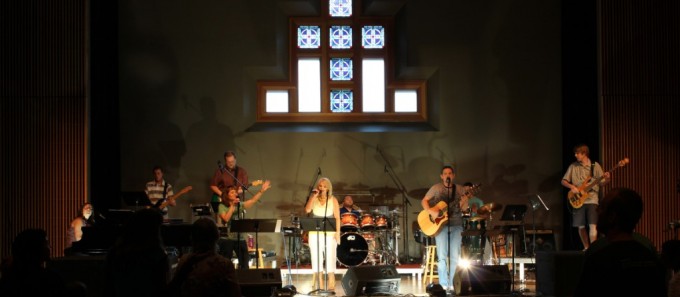 We're glad you've come to check us out!
We know it can be an intimidating experience checking out a church for the first time. Let us ease some of the stress by answering a few common questions.
What is the music like?
We have two great services with different worship styles. At the 9 am service you will be led by our contemporary worship team. The service occasionally features our choir, orchestra, and bell choir. At our 10:45 service the volume gets turned up as you experience modern worship.
What about the sermons?
Each Sunday we take some time to learn about God and what it means to follow Jesus Christ. The Biblically focused messages are relevant to every day life and will leave you encouraged and challenged. The sermons are the same at both services.
Will I be singled out?

Don't worry… at MVPC we don't ask our guests to stand up, tell us your life story, or do anything uncomfortable. We are excited to get to know you, but we'd rather do it on a more personal level.
Is there something for my kids?
While you are in worship your kids will have a blast in a program designed specifically for them. We have a fun and safe
children's ministry
for kids, birth to 5th grade and amazing
youth programs
for grades 6th-12th. Ask any greeter as you enter where your children's classes are located.
What should I wear?

Whatever you want! You will see people in everything from jeans and t-shirts, shirt and tie, or even Seahawk jerseys. Feel free to wear whatever is comfortable for you.
Where do I go once I get there?
Sunday morning worship is in the Sanctuary on the 1st floor.
Parking
We have two main options for parking. The side parking lot on the hill provides direct access to the lower 1st floor and the sanctuary. The upper parking lot provides access to the top (3rd) floor and the children's and youth Sunday activities, so if you have children this is the most convenient place to park. There are parking spots reserved for visitors in both the upper and side parking lots. Greeters at the doors will be ready to direct and help you in any way needed. There is also handicapped parking spots on all sides.
How can I get more information about MVPC?

Before or after the worship service, feel free to visit our Connection Center that is located in the corner of the downstairs foyer. The Connection Center has materials that describe our ministries as well as volunteers to answer any questions you may have.
---

Let us know what you thought by filling out a quick survey.
Tell me about MVPC
For information on what MVPC's purpose is and how to get connected in order to begin growing and engaging in service,
that information is available here
.
What do you believe?
If you are interested in learning about MVPC's foundational doctrines and statements of faith
you can do so here.